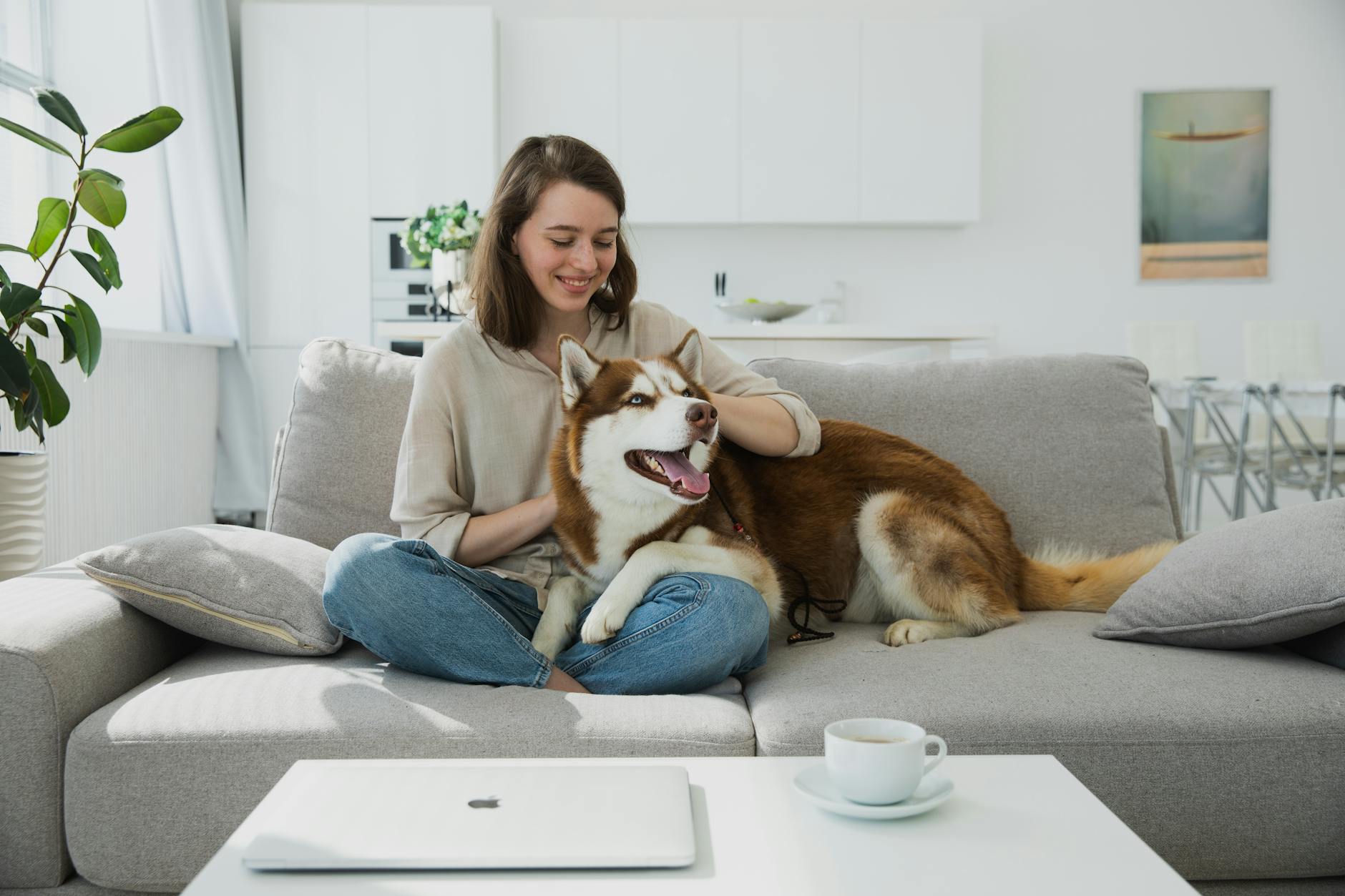 Pet-friendly living room furniture from Woodhaven
Repels odors | Durable fabrics | Beautiful styles
Shopping for pet-friendly living room furniture is easy if you have the right knowledge and tools. Let the team at Woodhaven Furniture (a leading furniture brand) help you decide on the right pet-friendly couch, chair, sofa, or sofa with a chaise that's comfortable and durable for the entire family – furry friends included. Our pet-friendly pieces are easy to clean, hold up against long nails or claws, and feature stain-resistant performance fabrics.
Shop pet-friendly couches
How to maintain your pet-proof furniture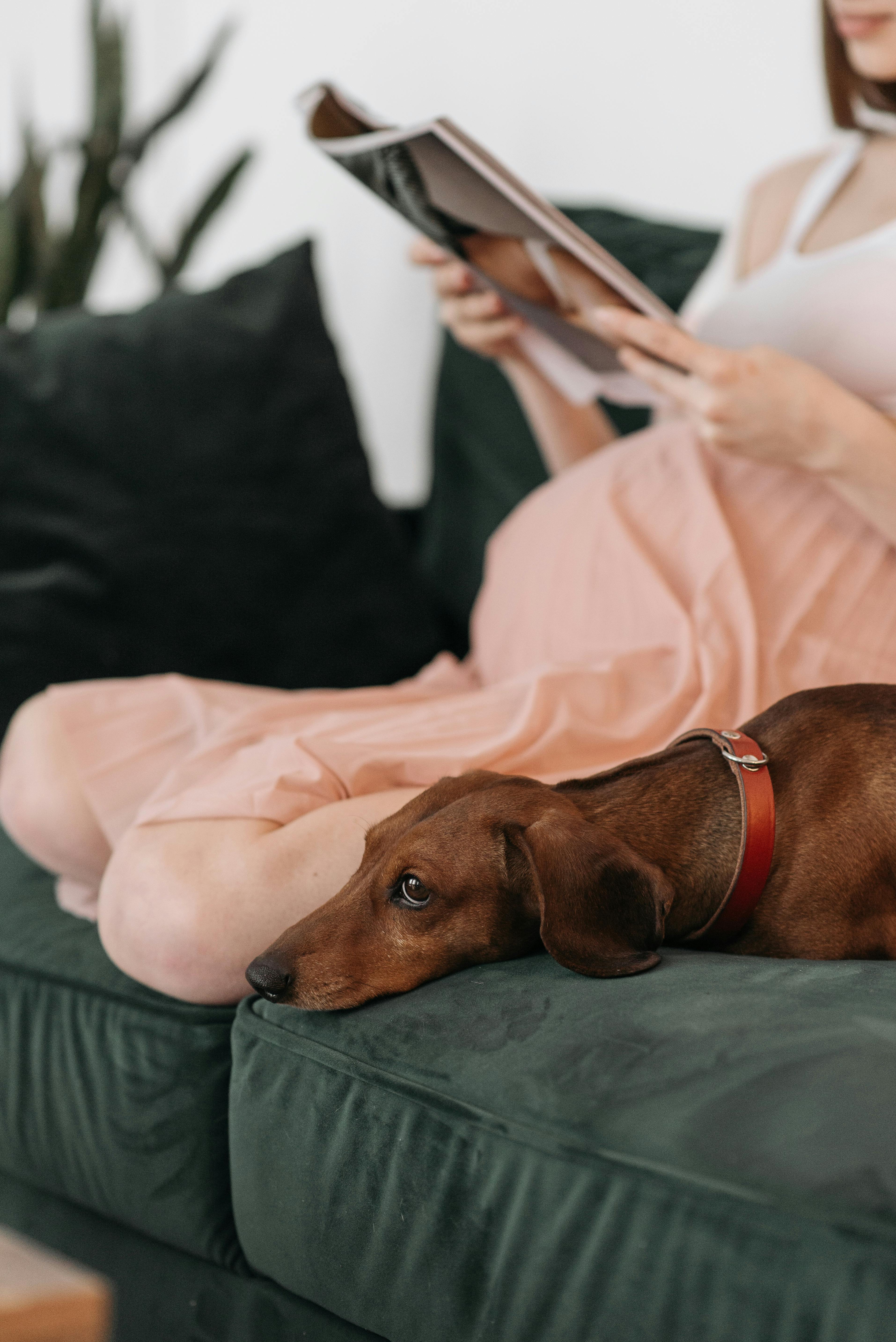 Pet-proof furniture is an investment, so it's important to know how to protect the pieces so they look like new long after delivery. Here are some of our top tips:
Choose the right fabric
Opt for microfiber or leather furniture (or the performance fabric options from Woodhaven) if you have pets in your home. Microfiber has durability and is easy to clean. Leather can get scratched, but overall it can stand up to pet wear and tear. Both are easily wipeable after an accident and do not hold pet hair. Avoid velvet, linen, suede, or tweed for your fabric.
Spot clean only
Spot clean with upholstery shampoo, foam from a mild detergent, or a mild dry solvent. Do not saturate with liquid. Pile fabrics may require brushing with a non-metallic, stiff bristle brush to restore appearance. Do not remove pillow casings and wash. To prevent overall soiling, frequent vacuuming or light brushing with a non-metallic, stiff bristle brush to remove dust and grime is recommended. When cleaning a spill, blot immediately to remove spilled material. Clean spots or stains from the outside to the middle of the affected area to prevent circling.
Keep your pet's claws trimmed
Cat or dog, keep those nails trimmed! The shorter the nails, the less chance of a major scratch on your furniture. Coupled with the fabric tip above, this is a powerful tip to maintain your pet-proof pieces.
Bathe your pets often
Keep those pets clean. The cleaner the pet, the less chance of a stain on your furniture. More bathing also should equal less shedding and hair on the couch.
Use pet odor spray
If your dog, cat, or other pet spends a lot of time on the couch or armchair - hit it with a pet odor spray every few days. That will keep odors at bay and your upholstery smelling new!
Use a lint roller
A lint roller can be a helpful tool in your furniture care kit. It's a quick, easy way to remove hair from your furniture on a daily basis.
Cover with washable throws and blankets
Use throws and blankets as covers on the furniture. When the blanket gets soiled or covered in fur, you can just shake it out and toss it in the washing machine. Plus, because there are so many colors and styles to choose from, it won't be hard to find a few that match your décor.
Clean up messes immediately
Don't let pet mess linger. Pick it up as soon as you can, and spot clean as per the instructions in the first tip. This one might seem obvious but let's be honest: consistently cleaning up a mess when it happens does require discipline.
Furniture care articles for pet owners
What to look for when shopping for pet-friendly furniture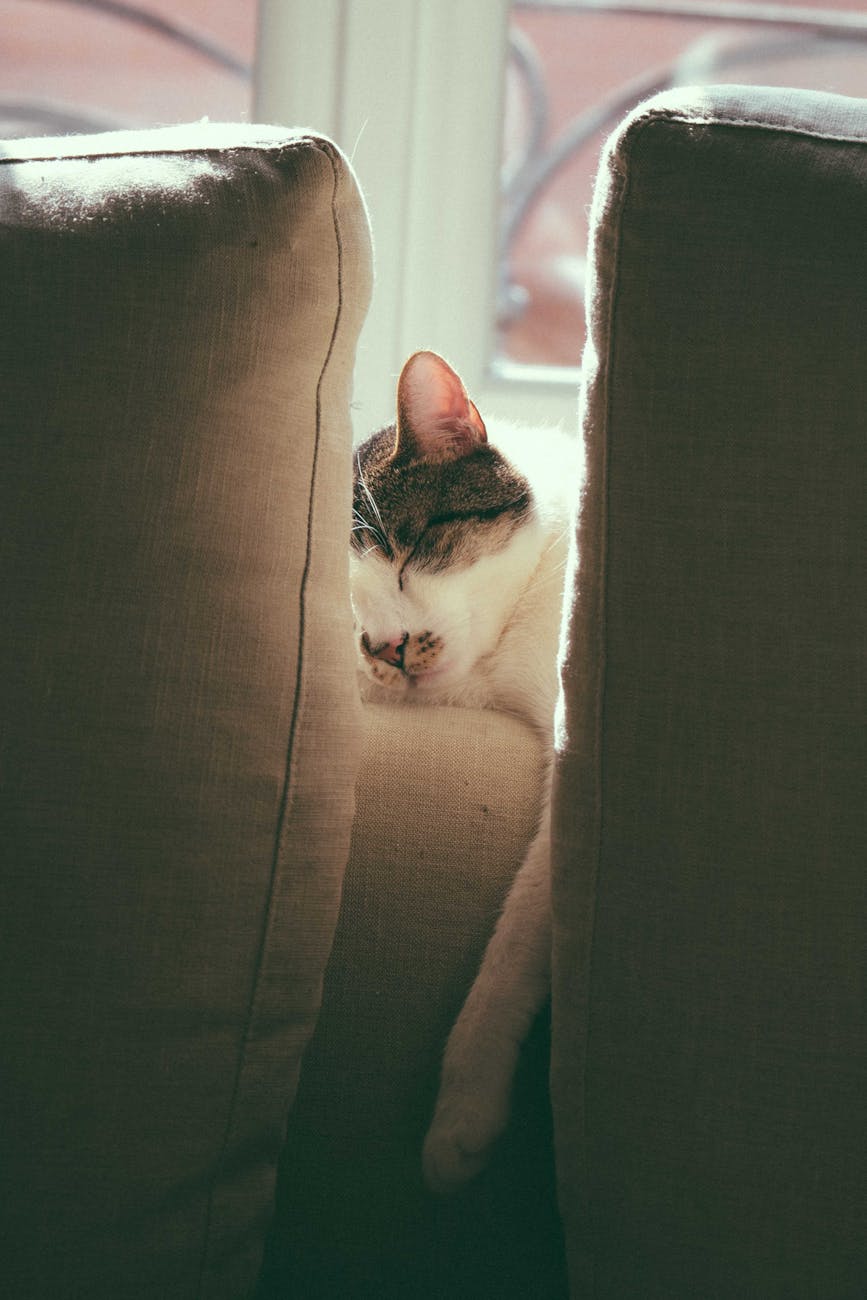 Shopping for the best dog-friendly furniture can be overwhelming. Here are some suggestions to make the process a little easier:
Choose the right material
If you look for fabric that's durable, stain resistant and easy to clean, you'll be able to keep your couch for a long time. One of the most popular fabric options for pet lovers is microfiber, which is very easy to keep clean and an affordable choice. Woodhaven's performance fabric options are popular, too, because they're easy to clean and super affordable. Leather is another material option that stands out as pet-friendly, comfortable, and attractive. Leather furniture tends to be a bit more pricey.
Washable slipcover and cushions
If the furniture comes complete with a washable slipcover and cushions, that feature will help maintain its appearance over time.
Price
You can find affordable pet-friendly furniture here at Woodhaven. You don't need to break the bank (and you probably shouldn't) on your new furniture. These special materials will cost more elsewhere, but we keep our prices fair and accessible.
Avoid wooden legs
When choosing your dog-proof furniture, make sure the piece does not have wooden legs. They're perfect targets for chewing and picking up scuffs.
Purchase a protection plan
Some furniture pieces may come with a protection or insurance plan that can help recoup costs if a furniture needs professional attention after pet damage. This small cost up front may save major headaches in the future. Woodhaven offers the option for a protection plan via their trusted partner Clyde. Look for it when/if you start checkout.
Pick the right color
Darker color sofas and couches (black, blue, gray) will easily hide imperfections and stains from pets. Lighter color furniture (cream, white, tan) will show stains or pet hair. Another school of thought is to match the furniture to your pet's fur, it will mask their shedding better.
Stay away from sharp edges
If you have an overactive dog or cat, who is a bit on the clumsy side, try to stay away from furniture with sharp edges to avoid injury.
Have fun with it
You'll be sharing your furniture with your pet, so consider something they would like to lay on and how they prefer curl up next to you. A special nook or soft pillow can be that bonus treat or your new furniture.
Shop pet-friendly chairs
Decorating tips for pet-friendly rooms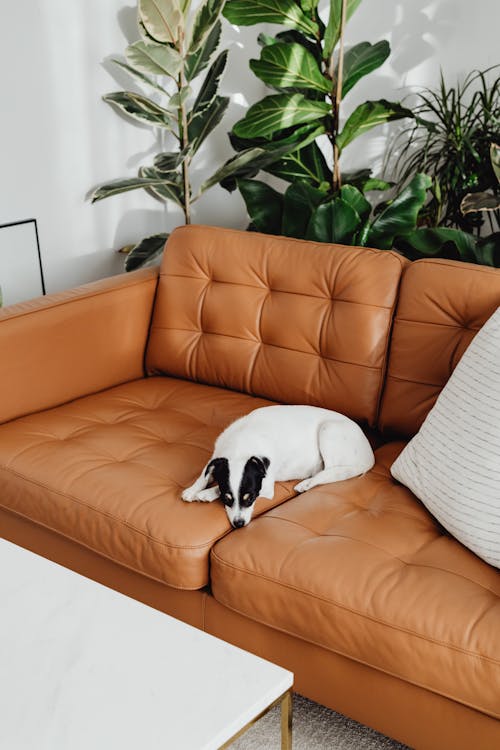 So now that you're on the hunt for pet-friendly furniture, how do you decorate to ensure the entire room looks great? Here are a few of our favorite tips:
Skip carpets
Wall-to-wall carpeting attracts hairs and odors, while trapping 'accidents' if they occur. Modular carpet tiles are a smart solution if you need to go this way.
Skimp on rugs
Don't buy an expensive rug for a room with pets. Similar to the carpet cons, a cheap rug can still look great but you're not making a long-term investment.
Bare floors are best
A smooth floor surface is easy to clean and resistant to stains. Hardwood, ceramic tile, or painted concrete are all wonderful options for your family and pets.
Avoid shelved nicknacks
Unless your pet is perfectly trained, they will likely be jumping and getting excited. If you have shelves lined with expensive pieces, they're likely to get bumped and fall. Decorate shelves at your own risk!
Match upholstery to fur color
Here's a quick guideline to keep your living room looking clean. Make sure to match your pet's color to the couch. This practical decision is the best way to hide shedded hair and similar colored stains.
Set up a pet-friendly entryway
Make your life easier by creating a spot for your pet by the front door or in a corner of a room. Hang leashes, place toys in a basket, and keep the raincoats or sweaters nearby, too. This keeps your pet's gear neat and tidy (and in one place).
Choose the right fabrics
Make sure your furniture truly is pet-friendly. Your furniture should come from a reputable dealer (like Woodhaven) that uses stain-resistant, washable fabric on its pieces. Bonus points if the fabric resists claw or teeth marks!
Use semi-gloss paint on walls
Semigloss paint is shiny and easy to clean. Eggshell or satin are also elegant and pet-friendly. Paints that feature a flat finish won't clean as easily and will need to be repainted often.
Smart window treatments
Opt for sheer, light fabric curtains that allow your pet to look through the window and see the bright outdoors! Avoid thick heavy curtains that rob them of that joy.
We hope this guide will be helpful as you search for the perfect pet-friendly furniture for your family. At Woodhaven, we're building the most comfortable and durable living room furniture for dogs, cats, birds, and everything in between. Happy shopping!